Projects Engineering Division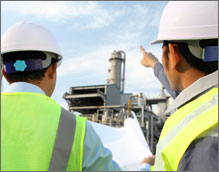 FKCL is well equipped with professionals routing from the Mechanical Sector, Electrical Sector and Civil sector who facilitate to high class Engineering and quality to satisfy our clients with utmost integrity. In addition FKCL is well equipped with the professionals routing from backgrounds of High class Design Engineering who could provide quality and class for Structural Designing, Piping Designing, Fire Alarm Tower Designing, Storage Tank Designing, Heat Exchanger Designing, Cooling Tower Designing, Industrial Fan Designing and Industrial Noise Control Equipments such as Acoustical Enclosure Designing, Acoustical Sound Proof Door Designing and Acoustical Barrier Designing along with assistance in providing State-of -the-Art Noise Control Solutions.
FKCL over the years have successfully completed more than 100 Direct Short Form Contracts, more than 10 Mid Form Contracts with one of the Global Giants in the Oil & Gas Industry – Saudi Arabian Oil Company. FKCL has also extended its professional services through Sub Contract projects executed for SCECO – Saudi Electric Company Limited and SABIC – Saudi Basic Industries Limited.
FKCL proudly could state that it had the privilege of working as a Civil / Maintenance Subcontractor to M/s.Hyundai Heavy Industries, M/s. Samsung Engineering, M/s. Saudi Arabian Kent Company Ltd, M/s. Mohammed Mojail Group, M/s. Sepam Arabia Ltd, M/s. Anabeeb, M/s. ATCO Group, M/s. Fluor Arabia Ltd, M/s. Al Suwaidi & Sons, M/s. Abdulla Naas & Partners Co, M/s. Hadi H.Al Hammam Cont Est, M/s. Al Nuqtan Trading, Hadeed Steel Plant, Petrokemya and JUPC. FKCL has also offered similar services to International companies established in the Kingdom such as M/s. McConnell Dowell, M/s. Saudi Shinwha Group etc.